---
---
This one-sided flyer is extremely simple to create, but looks just as a great as our two-sided flyers. All you need is four photos and some property details. You're minutes away from having a great-looking flyer in hand to market your newest listing.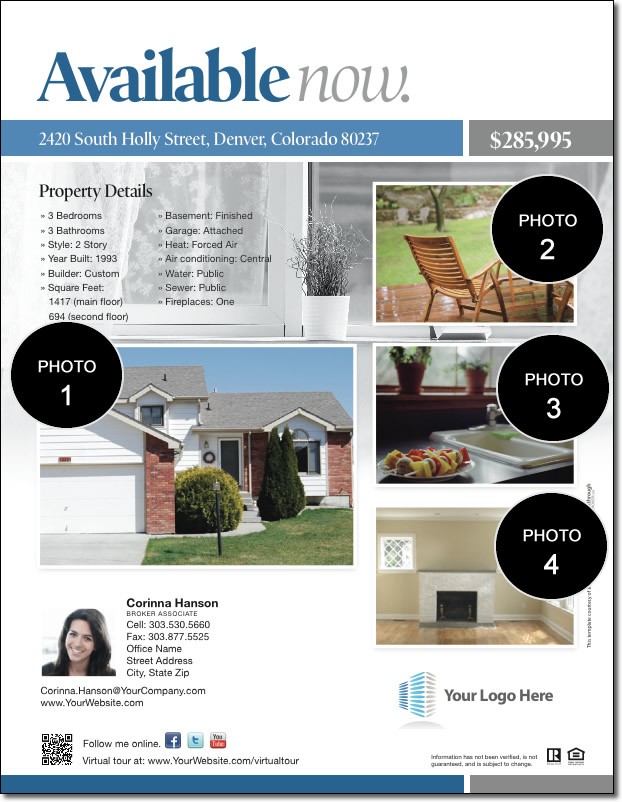 Getting started
Aside from your own contact information, you'll need a personal photo, four property photos, and various property details to create this one-sided brochure. You can also include a company/personal logo and a QR code if available. For best results, follow these tips:
Property Photos
The photo slots are labeled "Photo 1" through "Photo 4". Photo 1 will be the primary art for the flyer, so use your best photo in this slot (typically a shot of the home's exterior). Use the three remaining slots for supplementary photos, such as shots of individual rooms or the back yard.
Property Details
There are two detail columns, each containing up to eight rows, allowing you to list up to 16 details. This is where you can include specifics about the property, such as square footage, number of bedrooms and bathrooms, flooring styles, etc.
Finishing touches
You can print on standard printer paper, but a a heavier, glossy paper stock can go a long way toward improving the look and feel of the flyer.
---
---