Buyer Under Contract Letter Template
By Nathan Froelich
---
---
This letter is a great way to connect with buyers who are under contract for a home purchase, guide them through the final steps in the process, and ask for referrals in a polite, tactful manner.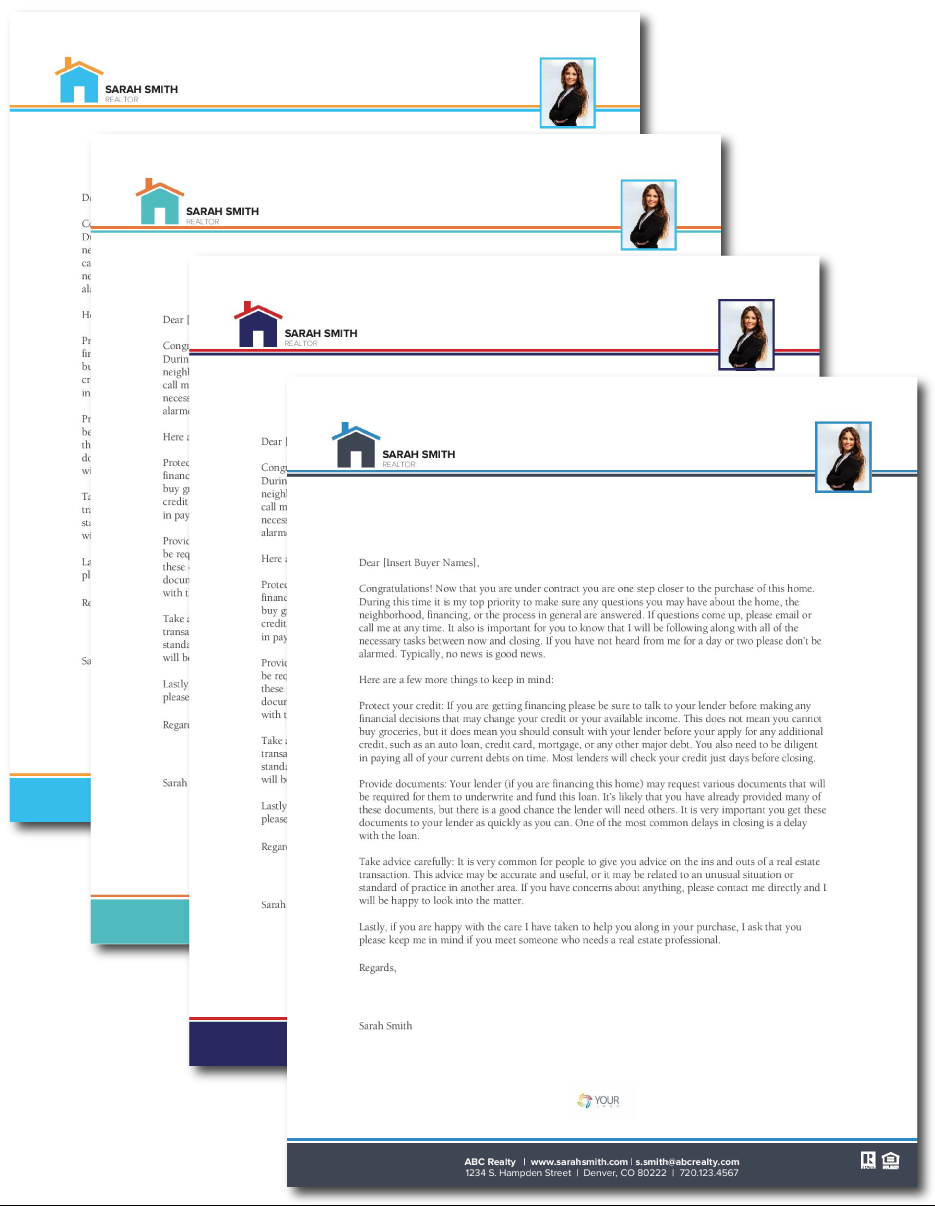 Creating your letter:
Enter your contact information into the appropriate forms, and also upload a company logo (optional). The system will use this information to automatically populate the letterhead and signature blocks.
In the "letter body" section all you have to do is change the bracketed text—[it looks like this]—in the greeting to include the buyers' names. Once you're finished you can click the "proof" button to generate the letter, and then download the PDF version and print it on regular 8.5"-by-11" paper.
What this letter says:
The entire text for the letter is available below. If you'd prefer to print it on your own letterhead you can copy and paste it into your own word processing program and make the necessary changes.
Dear [Insert Buyer Names],
Congratulations! Now that you are under contract you are one step closer to the purchase of this home. During this time it is my top priority to make sure any questions you may have about the home, the neighborhood, financing, or the process in general are answered. If questions come up, please email or call me at any time. It also is important for you to know that I will be following along with all of the necessary tasks between now and closing. If you have not heard from me for a day or two please don't be alarmed. Typically, no news is good news.
Here are a few more things to keep in mind:
Protect your credit: If you are getting financing please be sure to talk to your lender before making any financial decisions that may change your credit or your available income. This does not mean you cannot buy groceries, but it does mean you should consult with your lender before your apply for any additional credit, such as an auto loan, credit card, mortgage, or any other major debt. You also need to be diligent in paying all of your current debts on time. Most lenders will check your credit just days before closing.
Provide documents: Your lender (if you are financing this home) may request various documents that will be required for them to underwrite and fund this loan. It's likely that you have already provided many of these documents, but there is a good chance the lender will need others. It is very important you get these documents to your lender as quickly as you can. One of the most common delays in closing is a delay with the loan.
Take advice carefully: It is very common for people to give you advice on the ins and outs of a real estate transaction. This advice may be accurate and useful, or it may be related to an unusual situation or standard of practice in another area. If you have concerns about anything, please contact me directly and I will be happy to look into the matter.
Lastly, if you are happy with the care I have taken to help you along in your purchase, I ask that you please keep me in mind if you meet someone who needs a real estate professional.
Regards,
[Insert Your Name]
---
Have a mailing list over 200 and interested in bulk pricing? Click here.
---
---