"Home For Sale" Real Estate Brochure (now available in five color schemes!)
Mar. 3, 2015
---
---
Create an attention-grabbing, double-sided property brochure that you can present to your clients or distribute at open houses.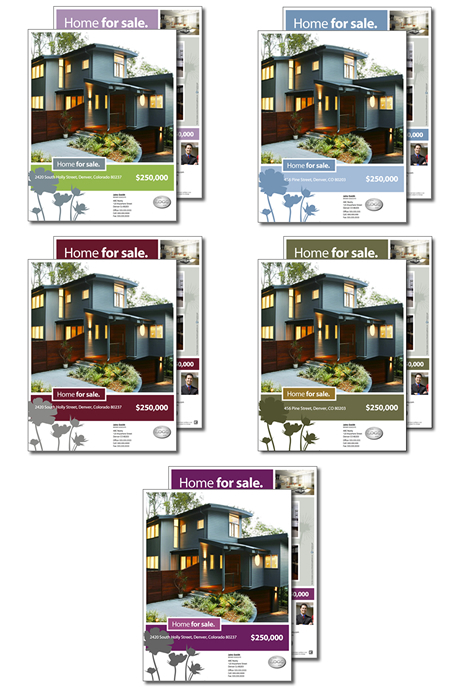 Getting started
Aside from your own contact information, you'll need a personal photo, four property photos, and various property details to create this two-sided brochure. You can also include a company/personal logo and a QR code if available. For best results, follow these tips:
Property Photos
The photo slots are labeled "Photo 1" through "Photo 4". Photo 1 will be the main art on either side of the brochure, so use your best photo in this slot (typically a shot of the home's exterior). Use the three remaining slots for supplementary photos, such as shots of individual rooms or the back yard.
Description
Use this section to describe the property's location, neighborhood, nearby amenities, school districts, etc. Use a few sentences to highlight the home's best features.
Property Details
There are three detail areas, each containing up to five rows. This is where you can include specifics about the property, such as square footage, number of bedrooms and bathrooms, flooring styles, etc.
Finishing touches
Once you're satisfied with your flyer, use the clickable links to download the front and back in PDF format. Your final proof should be printed on both sides of a single sheet of paper. A thick, glossy paper stock can go a long way toward improving the look and feel of the flyer.
You can also order prints from BreakthroughBroker.com by clicking the "continue" button after you're satisfied with the look of your flyer.
---
---