"Home For Sale" Real Estate Team Brochure with Co-Branding
Jan. 24, 2015
---
---
This brochure is designed for a real estate agent and mortgage professional team. You can add photos and logos for both agents, as well as property photos and details.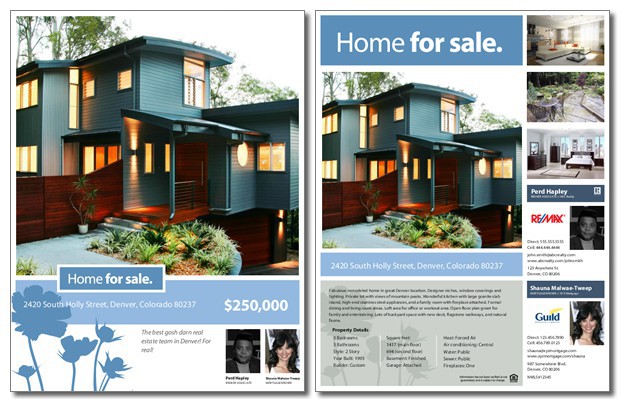 Getting started
For the best results, you'll need personal photos and company logos for both individuals on the brochure. You'll also need four property photos and various property details to create this two-sided brochure.
As always, follow state and federal guidelines for all marketing activities, especially when co-branding with mortgage or title companies.
Property Photos
The photo slots are labeled "Photo 1" through "Photo 4". Photo 1 will be the main art on either side of the brochure, so use your best photo in this slot (typically a shot of the home's exterior). Use the three remaining slots for supplementary photos, such as shots of individual rooms or the back yard.
Description
Use this section to describe the property's location, neighborhood, nearby amenities, school districts, etc. Use a few sentences to highlight the home's best features.
Property Details
There are three detail areas, each containing up to five rows. This is where you can include specifics about the property, such as square footage, number of bedrooms and bathrooms, flooring styles, etc.
Finishing touches
Once you're satisfied with your brochure, confirm the proofs and proceed to checkout. You can always have a free high-resolution PDF of your brochure sent to your email address, and then you can take care of printing yourself! We also have several printing and delivery options.
---
---