Hometalk Newsletter Template: Volume 2, Issue 3
By Nathan Froelich
Mar. 4, 2013
---
---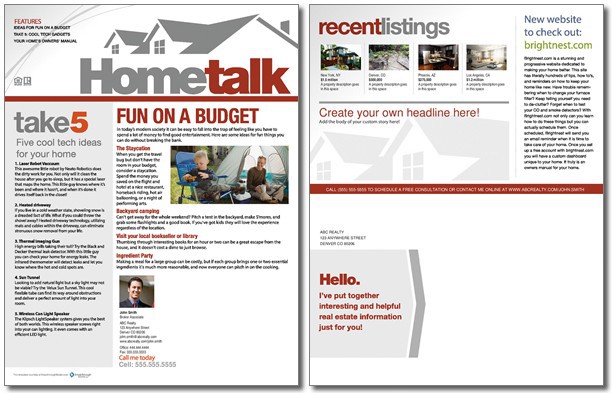 Template overview
The Hometalk template features three static stories (with accompanying photos/artwork if applicable), and also has a fourth content area where you can add your own story or an "About Me" section.
The template also allows you to upload photos and a few details about listings in your area.
If you'd rather build a simpler newsletter that doesn't require creating your own content, check out the Real Estate Advisor template. If you want even more customization options, check out the News & Views template.
This issue's stories
The main feature article for this issue is about finding good entertainment options without spending a lot of money. The secondary articles are about cool tech gadgets for the home and the website BrightNest.com.
Click here to read the full text for each story.
Download and delivery options
After you've completed your newsletter, click the "Continue to Delivery/Download options" button. After confirming your proof, you can choose to either download a free PDF of your newsletter or purchase prints for shipping or mailing lists.
Click here for an overview of our free eDelivery feature.
Shipping options start at $30 for 25 copies. Mailing list options are also available.
---
ADDITIONAL NEWSLETTER RESOURCES
Text-only versions of this month's stories
Real Estate Advisor newsletter template
News & Views newsletter template
Newsletter back issues
---