Apr. 13, 2016
---
---
Congrats, you won the listing! Now - time for the marketing. Use this perfectly designed Just Listed Door Hanger as a promotional piece for your listing. Your clients will appreciate the foot work and the homeowners who receive it will instantly know your a pro.
Real Estate Door Hanger Prices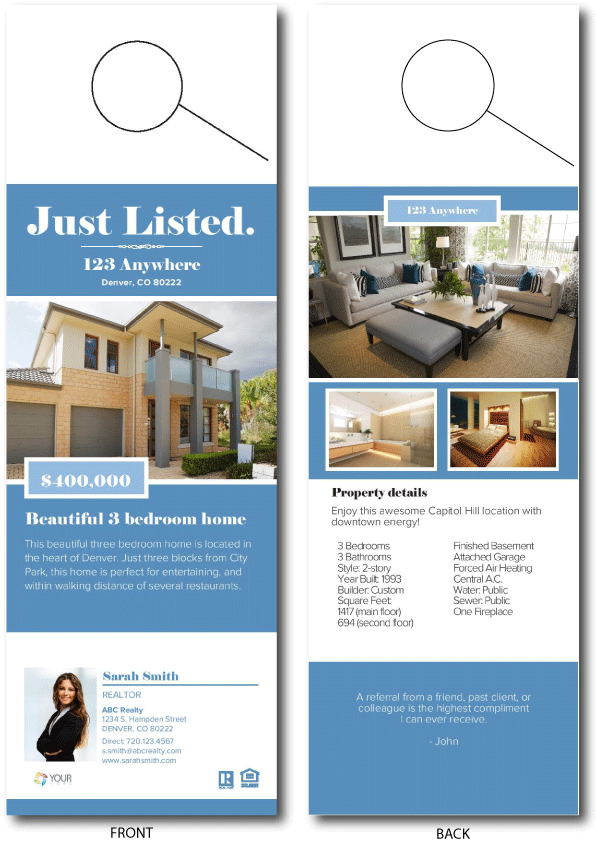 Getting started
This door hanger is the perfect way to let surrounding neighbors know about your recent listing. To get started you will need your head shot, company logo, four photos of the property, and a well written description of the property.
Photos
This Just Listed Door Hanger was designed to highlight the homes features both visually and descriptively. We recommend using four of your favorite photos that best represent all the property has to offer.
Text
This Just Listed Door Hanger has two areas where you can describe the features of the home. Use the space on the front of the door hanger to write a catchy property description. On the back, you can list the specific features of the home.
Finishing touches
The final proof will be double sided and printed in color on 10 point card stock. The door hanger opening at the top will be die cut and the agent information at the bottom is a perforated tear off business card.
Finished size is 3.5" wide by 11" tall.
---
---