Listing Presentation Template
We've done all the hard work for you. This presentation is sure to impress your clients.
---
---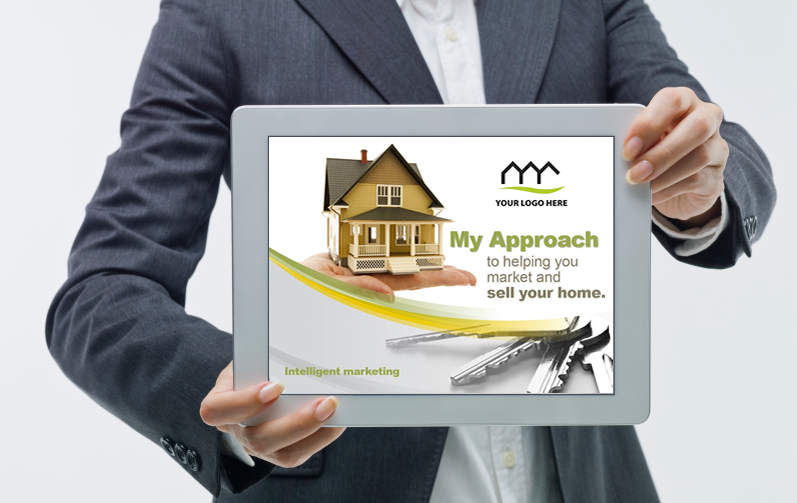 Working in Powerpoint or Keynote is frustrating, right? You can never seem to place your photos and text exactly where you want them.
Well, we've taken care of the hard part. This pre-formatted listing presentation template has been professionally designed with graphics and fonts that are sure to impress your potential clients. All you need to do is add your own information and a few photos.
Getting started
The template is available for download at the bottom of this page (you'll need Microsoft Powerpoint or Apple Keynote installed on your computer in order to open the file, or you can upload it to Google Docs). Once you've opened the presentation, you can immediately begin changing the pre-designed slides to contain your own information. Some of the slides won't need any edits, while on others you'll need to rewrite the default text to include information about yourself and your business.
Google Docs version
If you want to open and edit the Listing Presentation in Google Docs, click here to open the file. When the file opens it will be a read-only version, so select "Make a copy..." under the "File" menu so that you have your own editable version available.
The finished product
Once you've edited the presentation—double check to make sure you didn't leave any of the default text in the wrong places!—there are several ways you can use it.
You could bring your laptop to a listing presentation, and go through the slides one-by-one as you speak with your clients. You could also use the Keynote App on an iPad.
You could also print the presentation and give it to your clients, or you could save it as a PDF and display it on a tablet.
More information
You can lessen your workload when editing your presentation by using the master slide function in Powerpoint. For more information on master slides, as well as a more detailed explanation of the slides in the presentation, watch the following videos.
---
Quick tips for editing your listing presentation
---
Listing presentation concepts explained
---
---