Market Watch Email Newsletter Issue 3
Oct. 1, 2016
---
---
Finally! An easy way to create a email friendly newsletter with your personalized branding. You can now use the Breakthrough Broker Create system to build a professional newsletter for email.
Getting started:
Select "Create free JPG"
The stories are pre-written and updated monthly
Customize with your contact and branding info
You'll receive your JPEG via email within minutes
Download and save this JPG
Paste it into an email and send to your sphere.
To learn how to upload the JPG into your email, reference the step by step instructions below. Or email us at info@breakthroughbroker.com.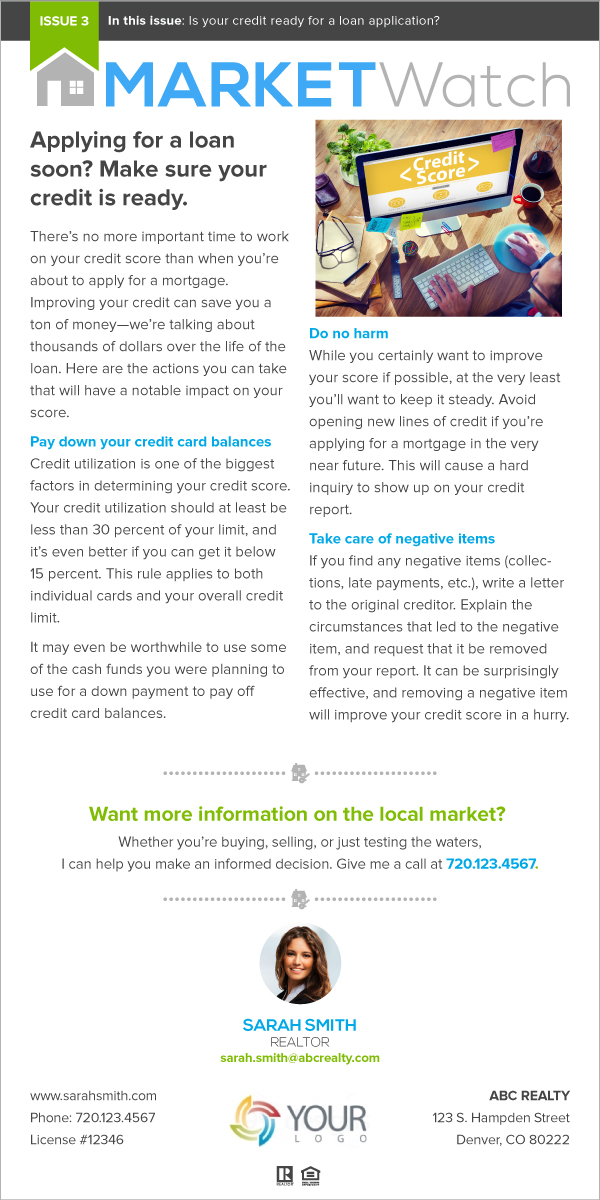 Template overview
The Market Watch template is designed to be sent via email. It's 600px wide, so it's perfect for desktop email clients, but it's also readable when viewed on mobile devices.
If you want to build a print newsletter check out the Hometalk or News & Views newsletter templates.
This issue
The main feature article for this issue is about the choice between renovating and relocating.
Click here to read the full text for this story, as well as some additional stories that you can use for your own custom newsletters.
Download and delivery options
After you've completed your newsletter, click the "Continue to Delivery/Download options" button. After confirming your proof, proceed through checkout to receive an email with the .JPG newsletter file that you can send to your clients.
Sending your newsletter
Embedding your newsletter will be easiest if you use Gmail or Apple Mail. You can also add it to your templates in Email Marketing Services like Constant Contact or MailChimp--that'll allow you to add a click through link.
For Gmail:
Begin to compose a new message
Save your completed newsletter on your computer (saving to the desktop will make the next step easier).
Drag the file from your desktop and drop it directly into your Gmail message.
Once the image is in Gmail, click it to bring up the image size options menu, and select "Original size."
Use the Gmail text formatting options to center the image within your message.
That's it! You're ready to send.
---
ADDITIONAL NEWSLETTER RESOURCES
Text-only versions of this month's stories
Hometalk newsletter template
News & Views newsletter template
Newsletter back issues
---
---