Self-Promotional Brochure
---
---
Create your brand! Let prospective clients know why they should choose you for their next home sale or purchase. This bi-fold brochure contains several customizable content areas that you can use to market your skills.
Self-Promotional Brochure Pricing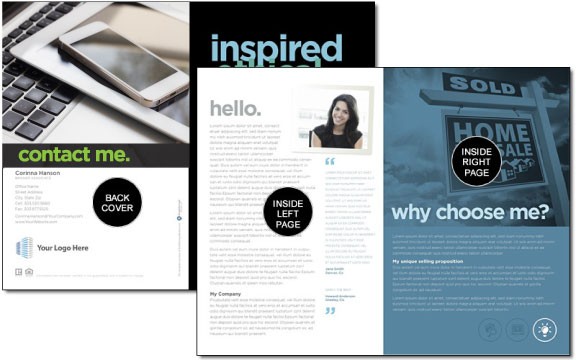 Before you get started
Please note that this is a complex brochure that can take 30 minutes or more to finish. Try to get all your thoughts organized before you begin working on the brochure. Watch this video if you need to save part way through.
The basics
Aside from basic contact information, you'll need a personal photo, a personal or company logo (optional), and several paragraphs of marketing content to fill out your brochure. For best results, follow these tips:
Intro Text
Use this space to introduce yourself to prospective clients. This is the first paragraph of content they'll see when they open the brochure. Your photo will be displayed next to this text.
Feature text
This is the main section of content on the brochure. You'll need about three small paragraphs (4-5 sentences each) to fill this section.
We've provided some suggestions for how to fill out this section in the default text fields of the brochure builder. You'll be able to see our suggestions after you click through and start creating.
Secondary text
This a good place to include information about your history as an agent, or perhaps about your company's background. Three or four sentences is all you need.
Testimonials
Ask for short (one or two sentence) recommendations from two of your past clients. Quote their recommendations in this section.
Why choose me?
Use 3-5 sentences to describe why you're the best agent around. Maybe you'll want to focus on your expertise in a certain neighborhood, or maybe you'll want to discuss you most recently-closed deals.
My Unique Selling Proposition
In this section you'll describe your brand. This is what makes you stand out from the competition. For help developing a USP, check out our Marketing Action Plan.
Finishing touches
Your final proof should be printed on one sheet of paper -- front and back -- and then folded in half to form a brochure. See the above diagram for reference. A glossy, heavier paper stock will go a long way toward improving the final look of the brochure.
You can also order prints from BreakthroughBroker.com's printing partner by clicking the "continue" button after you're satisfied with the look of your brochure.
---
---