Real Estate Advisor Newsletter 2016 Issue 10
Oct. 1, 2016
---
---
Select your preferred delivery method below to access our easy to use online design system.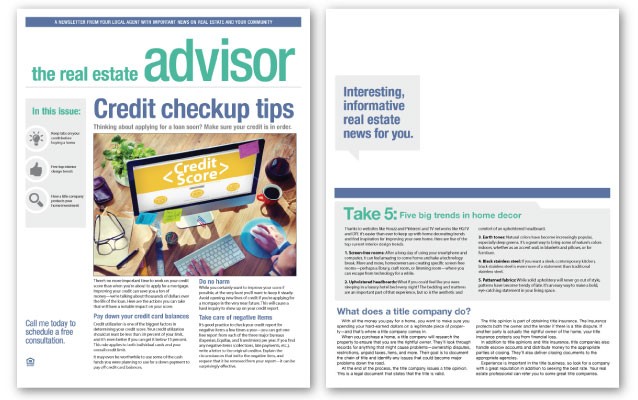 Template overview
The Real Estate Advisor template is our simplest newsletter to create. It features three stories and their accompanying art/photos (if applicable). You can customize the newsletter by adding your personal photo, a company logo, and your contact information.
If you want to build a newsletter with more customization options—including writing your own stories or adding an "About me" section—check out the Hometalk or News & Views newsletter templates.
This issue's stories
The main feature article for this issue is about improving your credit score before applying for a home loan. The secondary articles are about home decor trends and title agencies.
Click here to read the full text for each story.
Download and delivery options
After you've completed your newsletter, click the "Continue to Delivery/Download options" button. After confirming your proof, you can choose to either download a free PDF of your newsletter or purchase prints for shipping or mailing lists.
Have a mailing list over 200 and interested in bulk pricing? Click here.
---
ADDITIONAL NEWSLETTER RESOURCES
Text-only versions of this month's stories
Hometalk newsletter template
News & Views newsletter template
Newsletter back issues
---
---