Mar. 31, 2016
---
---
Use this over-sized 5.5" x 8.5" postcard to show your prospects and sphere that you can get the job done. Letting them know you're doing great will build their confidence in you and keep you top of mind when they have the opportunity to refer a real estate agent.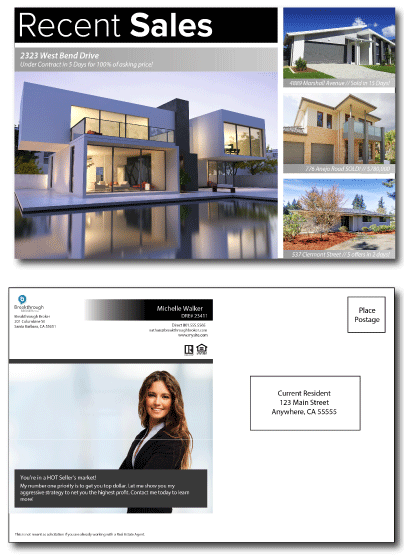 Getting Started
For this Recent Sales postcard, you will need four property photos of your most recently closed transactions, the property addresses, and the closing prices. In addition to this, you will want to have your company logo and head shot on file.
Property Photos
For best practices, choose a photo of each home that has great lighting and highlights a unique feature of the home. It is important to try to make all photos have a matching tone, therefore the postcard will be sure to be visually appealing.
Agent's Message
While creating this postcard, keep in mind that the photos will talk for you. There is also room on the backside for a brief "about me" write up, or a fun phrase highlighting your skills.
Finishing Touches
Your final proof should be printed on both sides of a heavy, postcard-style stock. It should then be trimmed to a standard 5.5"x8.5" postcard size.
You can also order postcard prints from BreakthroughBroker.com's printing partner by clicking the "continue" button after you're satisfied with the look of your postcard.
Have a mailing list of over 200 and interested in bulk pricing? Click here.
---
---