"Thinking Of Selling?" Postcard
This bright, eye-catching postcard lets potential clients know that you've got the chops to sell their home
Apr. 7, 2016
---
---
This bright, eye-catching 4" x 6" postcard lets potential clients know that you've got the chops to sell their home.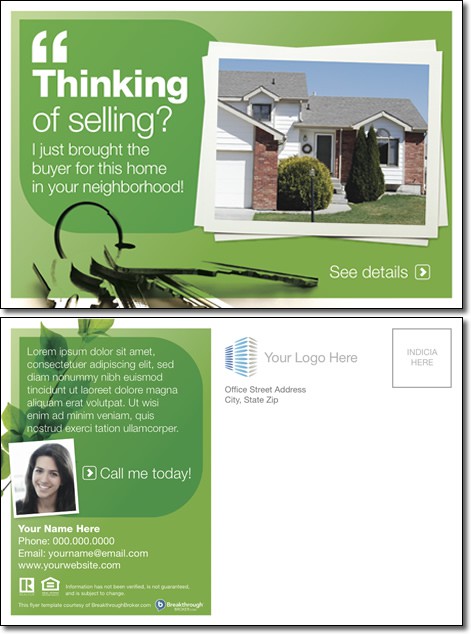 Getting started
To create this postcard, you need a property photo from a recently closed transaction, a personal photo, a short (two or three sentences) personalized message to your prospective clients, and a personal or company logo. You have the option to leave any of these elements out, but the postcard won't look complete.
Property photo
You only have one slot for a photo, so choose a good one! Pick the photo that best represents the property that just sold.
Agent's message
Write two or three sentences to market your skills to prospective clients. This may be a good place for your Unique Selling Proposition, which you can learn about by checking out our Marketing Action Plan.
Finishing touches
If you're printing postcards yourself, your final proof should be printed on both sides of a heavy, postcard-style stock. It should then be trimmed to a standard 6"x4" postcard size.
Have a mailing list over 200 and interested in bulk pricing? Click here.
---
---