Three Google tools that can make you a better agent
Connect with clients and increase productivity
By Nathan Froelich
---
---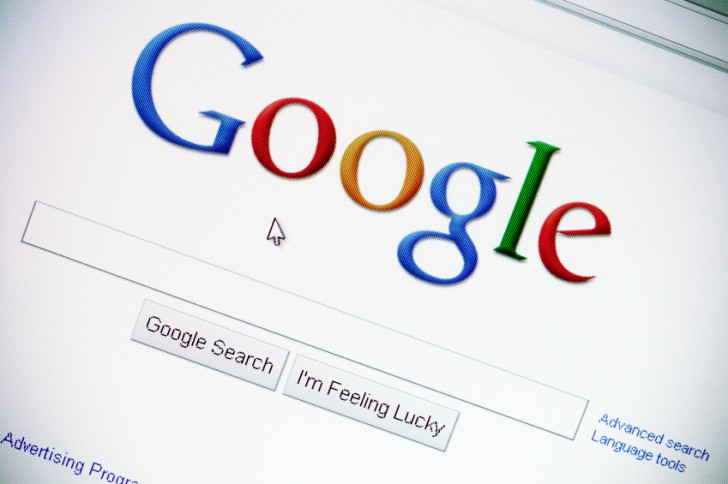 You're probably aware of a few of the many fantastic free features Google offers to its users, but I thought I'd share three of my favorites and explain how they can be particularly useful to real estate professionals. These three tools can help you form better relationships with your clients and allow you to increase your productivity.
Google Forms
A Google form is webpage that you can build for free through Google Docs (more recently known as Google Drive). This webpage allows the page viewer to fill out fields or answer questions online, and the information is then automatically sent to a spreadsheet that you, the page creator, can view. Online surveys, questionnaires, and applications are good examples of items you can build with a Google form.
The fantastic thing about these forms is that they are free, easy to create, and can be used in an endless variety or ways. We're going to cover two ways you can use them for your real estate business.
Post-Closing Survey
This is one of the best ways to use Google forms. Agents should always be collecting feedback from our customers, both past and present. With a Google form like this one you can survey all your clients as soon as you close.
New Buyer Questionnaire
According to NAR, one of the biggest complaints home buyers have is that they feel like their agent doesn't listen to their needs. If you were to send your new buyers a questionnaire they will know you are serious about understanding them. This also creates an opportunity for couples to get on the same page by answering important questions together. You can also do the survey with them in person for a more personal experience. Here is an example of a Buyer Needs survey.
If you want to learn how to create Google forms, here is a great step-by-step guide.
Canned Responses
Canned responses are prewritten emails that are easily created within your Gmail account. They can save you a ton of time, and they have some pretty creative uses.
A showing on your listing
Ever wanted to share all of the great features of a listing with the agent who is about to show it, but don't have a lot of time to put together a well-written email? With Gmail canned responses you can send an email every time you are notified of a showing on one of your listings. It would look like this (click for full size):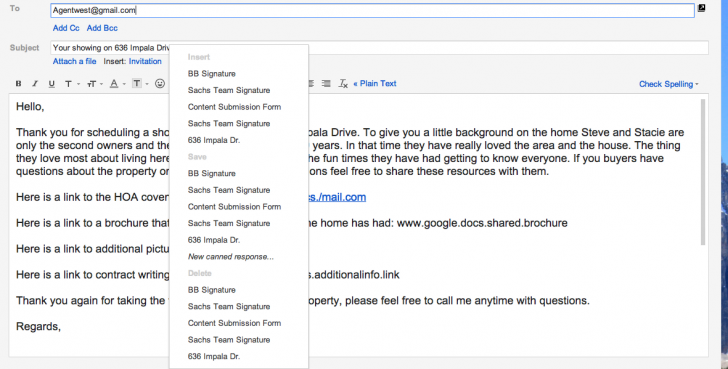 The best part of canned responses is that you can create and modify them easily. If you wanted to get fancy you could even embed links to shared online Google documents, links to videos, or pictures related to the home. Encourage the buyer's agent to share the email with the buyers, thus giving them tools to help them sell your listing.
Note: Canned Responses must be enabled by going to the settings, and then the labs, in Gmail. To learn how to create canned responses check out this post.
Google Calendar
Simply put, I believe Google is leading the pack when it comes to calendars and calendar sharing. Something as simple as an online calendar was a tricky thing to share with other people unless you had an exchange server or some other now-obscure technology. Google calendar lets you easily share calendars with business partners, spouses, or—best yet—your client.
A buyer under contract
When asked about the experience of buying a house, many buyers say they felt they had no idea what was going on throughout the process. Now you can keep them informed with a Google calendar. By loading in all of the dates and deadlines and then sending them the link to the calendar, they will have a real time view of what is happening. With Google calendars you can easily create new calendars and share them with anyone you choose.
---
---