How can agents use Nextdoor.com?
By Nathan Froelich
---
---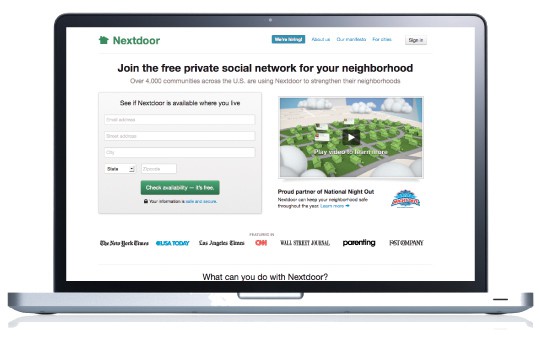 Could Nextdoor.com be fertile ground for Real Estate Agents?
What is Nextdoor.com, you ask? Well it's another social network. Wait! Don't leave! Keep reading, it's not like Facebook!
In August I listened to Nirav Tolia, the CEO of Nextdoor.com, speak on a panel at Inman Connect in San Fransisco, and my first impression was, "This guy is smart." I would like to be super smart like this guy. My second impression was, "Nextdoor sounds cool, but would I use it as a neighbor, and would it be of value to me as a Realtor?" Before I tell you my personal experience, let me describe what Nextdoor is.
In brief, Nextdoor is a private network where only the residents of a particular neighborhood can be members. You can think of Nextdoor as a virtual bulletin board where neighbors who elect to participate can interact. Examples of posts range from notifying others of a lost pet or a garage sale to more serious matters like crime or suspicious activities. Neighbors can also start discussions related to HOA issues or other civic matters.
After Connect, I decided to check out the site and see if my neighborhood in Colorado had been started. As it turns out it hadn't, so I went ahead and created a profile for my neighborhood, which was stupidly easy. When I typed in the subdivision name it mapped it out perfectly. Then I was prompted to go about asking my neighbors to join. Nextdoor does a pretty awesome job of making this very easy, and there are various ways to notify your neighbors of the site via postcards, Nextdoor-provided flyers, and emails. Nextdoor even handles the printing, mailing, and cost of the postcards, which makes sense, because the who else would pay for it? It really shows their commitment to getting the word out.
I got a few neighbors signed up through Facebook, and my wife messaged a couple people she had emails for. I then took the steps to have Nextdoor email 100 postcards. It's been thirty days since my initial sign-up, and there are now 14 households on the site. The most amazing thing to observe has been the conversations taking place. As new neighbors sign up they share who they are and what they do, and other neighbors are commenting and sharing common interests. For example, one neighbor mentioned she was retired and another neighbor commented saying she was excited to hear there was another retiree nearby. There has also been an ongoing thread regarding plans for an HOA merger and construction of a new pool.
Skeptics often say that this type of online interaction prevents people from getting to know one another in real life, but in the case of Nextdoor I disagree. I believe these people would never have the courage or the opportunity to meet in person, and they're now getting to know one another. Now that the ice has been broken--albeit virtually--these neighbors will now have the courage to introduce themselves in real life when the opportunity presents.
OK, so it's great for neighbors. How can it help Realtors?
Personally, I feel Nextdoor presents a very real opportunity to engage with my target audience: homeowners. I think with thoughtful, non-commercial posts, I can establish myself as the neighborhood real estate expert. I can share sales information or other important housing information like tax assessments. I can also keep an eye out for comments that indicate someone might be considering a move. However, you may not want to post self-serving comments like listings, because your neighbors have the option to mute you if they don't want to know about every listing you ever get.
For other agents, I see two big questions. 1) Do you live in the type of neighborhood where Nextdoor is functional and will be adopted by the neighbors? 2) Are you interested in prospecting for leads in your own neighborhood? Some agents would rather not have clients right out their front door when they are mowing the lawn shirtless and drinking a beer from one of those party helmets.
I can envision some interesting interactions between competing agents living in the same neighborhood who may be angling for the same prospects. The image of the street fight between news anchors in the movie "Anchorman" comes to mind. Conversely, agents who live in a neighborhood that is being prospected hard by an agent who does not live there should now have a leg up, because the outside agent cannot become a member of that Nextdoor group.
In summary, I believe Nextdoor's mission is pure, and if an agent shows a genuine and caring interest in helping build a stronger neighborhood, he/she will benefit in many ways.
Wanna see my 10 simple tips for using Nextdoor.com as a Realtor?
Here is a short video that explains Nextdoor:
---
---
---