Modern Available Now Real Estate Flyer
---
---
Modern "Available Now" Brochure
Leave a lasting impression on your clients when you provide them with this modern and stylish property brochure for their home. You'll look like a graphic design pro in just minutes with our easy to use system. Choose the delivery option below to get started!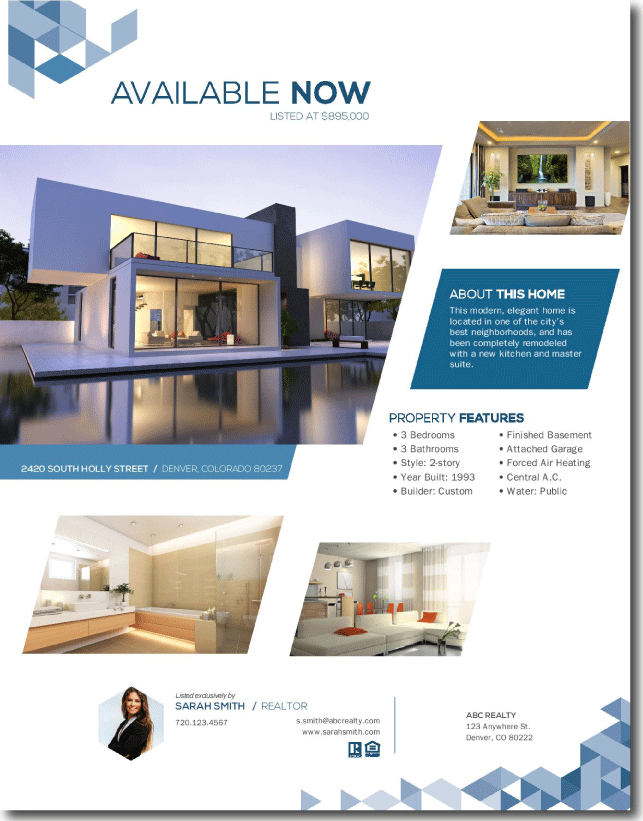 Getting started
Aside from your contact information you'll need a personal photo, four property photos, and the property details to create this brochure. In addition, you will want to have a short but sweet property description on file to inform and persuade interested buyers.
Property Photos
Although the photo slots are slanted in the design your photos will show up just as they would if they were placed in rectangle or square slots. Since this flyer has plenty of white space, use colorful photos to add pops of color!
Description
This modern Available Now Flyer allows for a short property description. Use powerful and descriptive words here to help the buyer visualize the benefits and main features of the home.
Property Features
Use this space to list the specifics about the property such as square footage, number of bedrooms and bathrooms, flooring styles, etc.
Finishing touches
This flyer will be printed on standard 8.5"x 11" paper with a satin finish when selecting a print option using our printing service.
---