Retro Series Listing Flyer
---
---
Retro Series Listing Flyer
Use this Retro Listing Flyer to promote all phases of your new listing. This flyer is available in five color schemes and has a variety of header options including "Available Now", "Coming Soon", "Just Listed", "Just Sold", "Under Contract", and the option to write a custom header.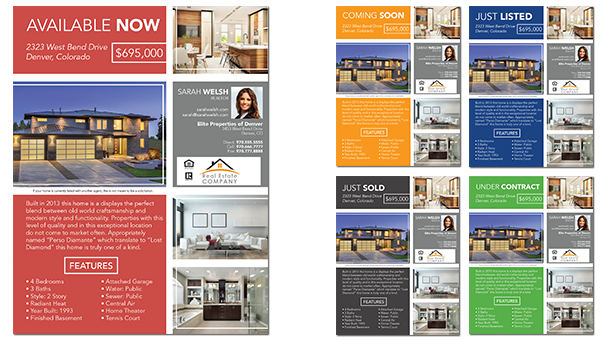 Getting Started
To create this flyer you will need four property photos, your contact information and headshot, company information, property description, and a property features list.
Property Photos
There are four slots for photos on this flyer. Highlight the property inside and out on this flyer by using photos that represent the home in the best light.
Description
This flyer offers ample room for a well-written property description. Share the features of the property here along with information about the neighborhood and community.
Property Features
Use this space to list the specifics about the property such as the square footage, number of bedrooms and bathrooms, property finishes, ect.
Finishing touches
When you select to use our printing service, the flyer will be printed on standard 8.5" x 11" paper.
---