For Sale By Owner Postcard (FSBO)
Apr. 10, 2016
---
According to the National Association of Realtors most homeowners who place their home for sale without an agent will eventually list.
Persistence and showing a track record of success is key when prospecting to FSBO's. This postcard is great whether you are following up from a phone call or previous mailing.
When the time comes for the homeowner to choose an agent, will it be you?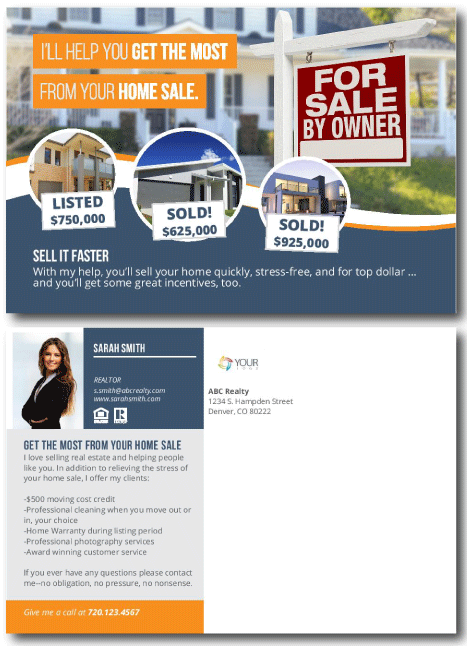 Getting Started
To create this postcard you will need property photos of your current or past listings, your contact information, personal photo, and a company logo. You will also want to have a list of four to five unique things you can do for FSBO's if they decided to list with you.
Postcard Photo's
In addition to your head shot this postcard showcases three properties that you have listed or sold in the past. Be sure to high quality photos for your design.
Agent's Message
To get the most out of this FSBO postcard it is best to use a persuasive, sale's focused message. Currently, the pre-written, customizable message on the back reads as such:
I love selling real estate and helping people like you. In addition to relieving the stress of your home sale, I offer my clients:
$500 moving cost credit
Professional cleaning when you move out or in, your choice
Home Warranty during listing period
Professional photography services
Award winning customer service
If you ever have any questions please contact me--no obligation, no pressure, no nonsense.
Finishing Touches
Your final proof will be printed on both sides of a heavy, postcard-style stock. It will then be trimmed to a standard 4" x 6" postcard size.
Have a mailing list of over 200 and interested in bulk pricing? Click here.
---