"Listed Exclusively" Flyer
---
---
This elegant flyer template has five slots for photos and plenty of space for property descriptions and details.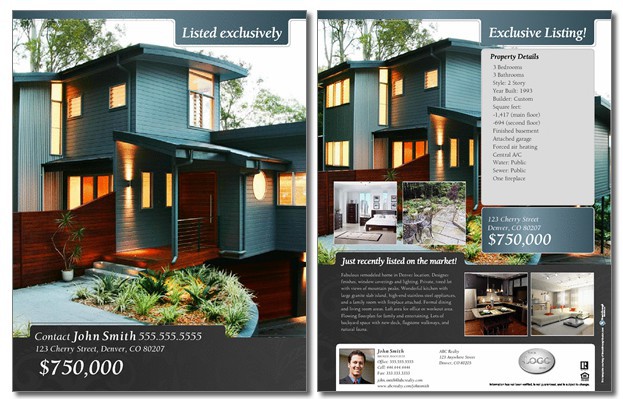 Getting started
Aside from your own contact information, you'll need a personal photo, five property photos, and various property details to create this flyer. You can also include a company/personal logo if available. You can still create the flyer if you're missing some of these elements, but it won't have a completed look.
For best results, follow these tips:
Property Photos
The five photo slots are labeled "Main Photo," and "Secondary Photo 1," through "Secondary Photo 4." "Main Photo" will be the main art for the brochure, so use your best photo in this slot (typically a shot of the home's exterior). Use the remaining slots for supplementary photos, such as shots of individual rooms or the back yard.
Description
Use this section to describe the property's location, neighborhood, nearby amenities, school districts, etc. Use a few sentences to highlight the home's best features.
Property Details
This is where you can include specifics about the property, such as square footage, number of bedrooms and bathrooms, flooring styles, etc.
Finishing touches
Once you're satisfied with your flyer, use the clickable links to download a standard resolution version in PDF format, or continue to delivery options if you want to receive a free high-resolution download. You can then print the flyer on both sides of standard 8.5"x11" paper. A thick, glossy paper stock can go a long way toward improving the look and feel of the flyer.
Along with downloadable versions, you also have the option of ordering prints from BreakthroughBroker.com.
---
---