Classic We Love Our New Home Shareable
---
Classic We Love Our New Home Shareable
Congrats on getting your clients moved in to their new home. Give them an exciting way to celebrate their recent purchase and share their new address with their friends and family with the help this "We Love Our New Home" Instagram and Facebook post. With a little shout out to their amazing agent, YOU, all ages and genders will love this Instagram post.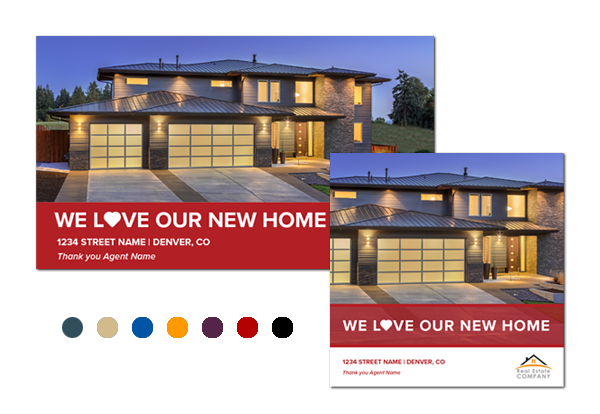 ---
Getting Started
To customize these post templates, you will need a photo, preferably one of your clients in front of their new home. If this is not an option, we recommend using a photo from the MLS listing. Additionally, you will need the property address, your name, and your logo. This design is available for Facebook and Instagram and comes in seven different colors to match your logo.
Once you are done with your project, you can share it with your clients one of two ways. With our "Text to a phone number" option, you can send the photo to yourself via a text message. Save the photo on your phone and then craft a message to your clients and attach the photo. If you prefer, you can use this option to simply send the finished photo to your clients by entering in their phone number at checkout. Please note if you send your clients the photo straight from BreakthroughBroker.com, the text will come from a different phone number than yours and you will not be able to add a personalized message, it will just be the photo.
If you send this photo to your clients from your phone as an attachment to a text we suggest the copy of, "I'm so happy for you and your new home! If you'd like to let your friends and family know your new address, I created this Instagram/Facebook post for you!"
---