Looking to Downsize Postcard
---
---
Looking to Downsize Postcard
This postcard has been specifically designed for clients who may be looking to downsize. Consider sending them to established neighborhoods where there are empty nesters in larger homes.
Having a specific message for a target audience is critical to the success of your direct mail campaign. This eye catching postcard is sure to get your prospect's attention.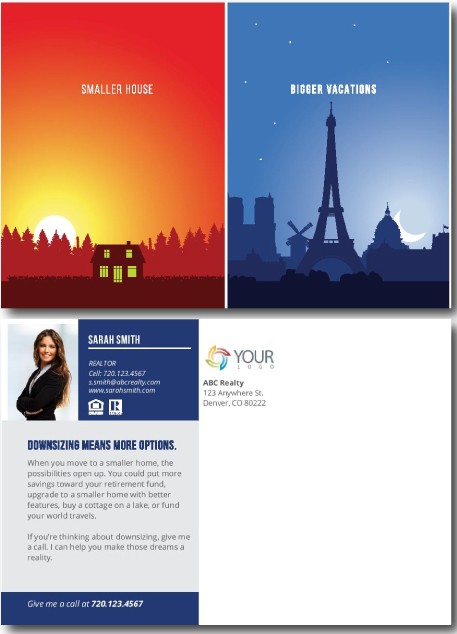 Getting Started
This impressive postcard was designed to inspire the recipient to act on their plans to move to a smaller home. There is room on the back for a personalized message from you. In addition, there is space for your head shot, company logo, and contact information.
Postcard's Message
Since goal of this postcard is to invoke an emotional response and encourage prospects to take the first step, keep the message encouraging, light, and full of hope. Currently, the pre-written message reads as such:

When you move to a smaller home, the possibilities open up. You could put more savings toward your retirement fund, upgrade to a smaller home with better features, buy a cottage on a lake, or fund your world travels.

If you're thinking about downsizing, give me a call. I can help you make those dreams a reality.
Finishing Touches
This postcard will be printed on both sides of heavy, postcard-style stock paper. It will then be trimmed to a standard 4" x 6" postcard size.
---